Upon touching down in Chengdu after a long flight from Los Angeles, I found myself back in a world I had been apart from for four years. The last time I was in China, though, I was visiting with a group of some of my closest friends for two weeks. This time, however, I was alone and would be living there for over a month and a half. I have no problem living on my own, but compared to my home town the city might as well have been on a different planet. I couldn't speak the language and I wasn't accustomed to the culture, food, or social cues. What was I even doing there in the first place?
In the spring of that year, I was walking back from playing soccer with a friend of mine at university in Cardiff, Wales. On the way home, we passed by a career fair in the university's main hall, where I picked up a pamphlet for an internship opportunity in China. An online application and a couple of phone interviews later, I secured my place on the program and started looking at round-trip flights to a city I had only ever heard of once or twice before in my life.
After I arrived at my apartment in Chengdu, I dropped my bags and went for a walk. I wanted to explore the city on foot and get a sense of my surroundings. After walking for over an hour and a half, I realized that I had only passed through two high-rise neighborhoods and a business center. The city was so massive that two hours of walking eventually landed me two centimeters away from my house on a city map. I knew it was a big city from my research back in university, but being able to see the scale firsthand was much different. Even the size of the buildings astonished me. Not just the size, but the shape as well. Modern Chinese architecture is an art of its own. The attention to detail and the use of patterns and irregularity was particularly astonishing.
The photo above on the left is from when I walked past Chengdu Polytechnic University in the Hi-tech Zone on my way home. The illuminated building is the same in both images, but the second is the view of it from my room. The lights on the building would turn on at exactly 8:10 pm and would turn off at midnight.
Jet lag kept me up at night through the first weekend. I didn't mind because I found the night to be better for exploring the city than the day. Afternoons in Chengdu had two moods: windy with torrential rain or oppressively hot and humid, while nights were usually cool and cloudy. I tried to balance my walks through the city between tourist traps and local favorites. Each night, though, would bring me back to the same spot: Anshun Bridge.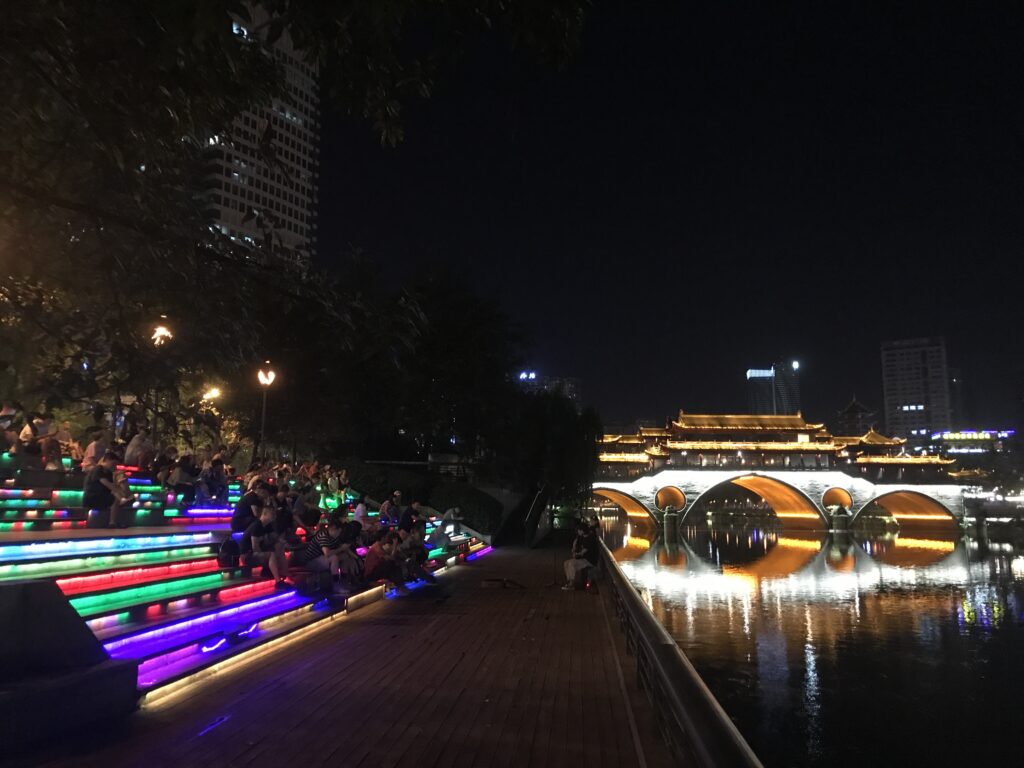 Over time, the rainbow-lit steps by the bridge became my favorite place in Chengdu. Local musicians played their guitars and sand to the crowd as pedestrians came and went. I would usually walk there late after work or nights spent on the town and sit for hours. The crowd would change every half-hour or so, but almost every person came in a group of two. University students drinking canned cocktails, a mother and her boy, a blind man and his wife, star-crossed teenage lovers, a businessman and his small dog...All of these different people sitting and listening to music together, sharing the same moment under a moon-lit sky.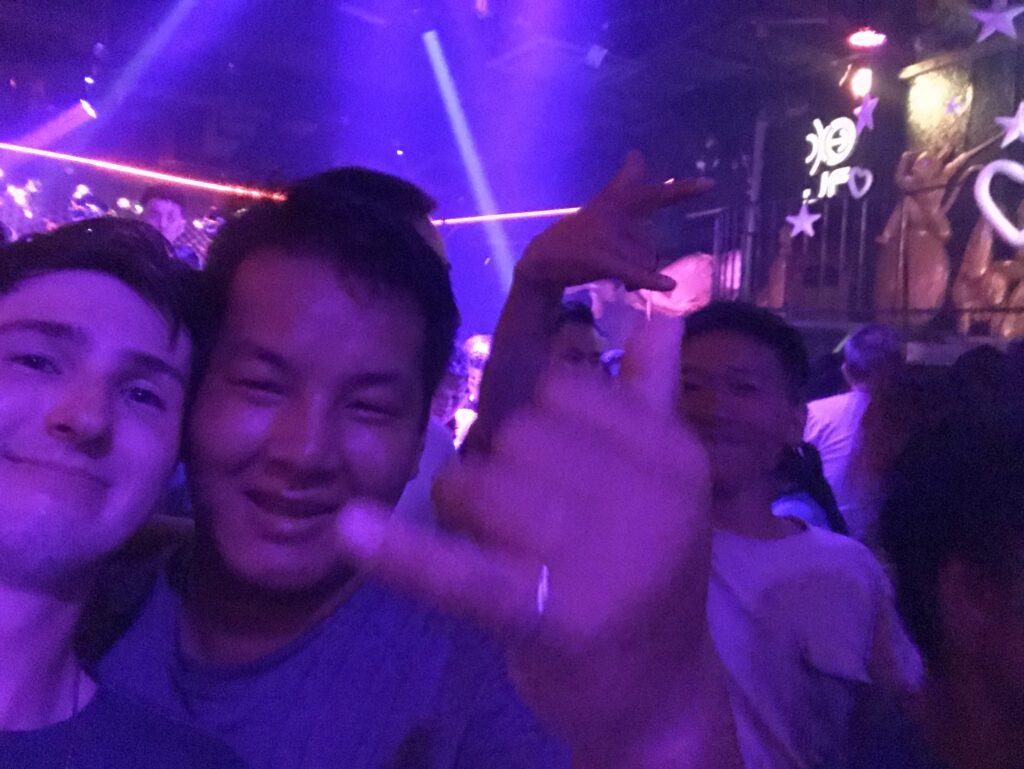 The picture above on the right is the first hotpot meal I had in Chengdu. A group of interns and I were led through the restaurant to a private room in the back, where we were given translated menus and tea. The idea behind hotpot is that the entire group uses a pot of boiling water to cook the raw meats and vegetables they order. By tossing different ingredients into the boiling water, you basically create your own custom broth to cook the food in. Our hotpot was segregated by spice level and food preference, with the pot on the left cooking mild vegetables and the pot on the right cooking spicy meats. Hotpot is a communal experience and was a perfect way for the group to make conversation, share a few laughs, and get to know each other better. One particularly comical moment was when we ordered a pig's brain for the hotpot. The majority of the group seemed both curious and nervous to try it. Once the brain arrived, a friend of mine started to lower it into the spicy pot. Suddenly, it slipped from the spoon and into the mild vegetarian pot. The entire group screamed and fished the brain into the correct pot, apologizing profusely to the vegetarians who found the funny side of it, thankfully. As the night drew on, we realized that each person in our group of twelve was born in a different country: Israel, Poland, England, France, Lithuania, Germany, Ireland, and the United States. It was both an honor and pleasure to have dinner with such a diverse, friendly, genuine, unique, and all-around fantastic group of people.
I am not a beer drinker. If a restaurant offers any kind or quality of wine, I would happily drink a bottle of it before a beer. This particular hotpot restaurant, however, did not. Determined not to be the only person in the building not enjoying a drink with their dinner, I asked one of the internship coordinators if there was anything else to drink besides beer. He replied, "Yes. You can try Baiju." I had no idea what that was, so I simply nodded my head and suddenly a small glass bottle of clear liquid was placed before me. Baiju, I would come to learn, is a Chinese grain-based spirit. After my first sip, I instantly recognized my mistake. Finishing the bottle was a painful experience. Some people enjoy it, like some people enjoy sipping straight vodka, but I am not one of them. It was cheap, though, so if you're looking for a bottle of discount vodka while in China this is a solid option.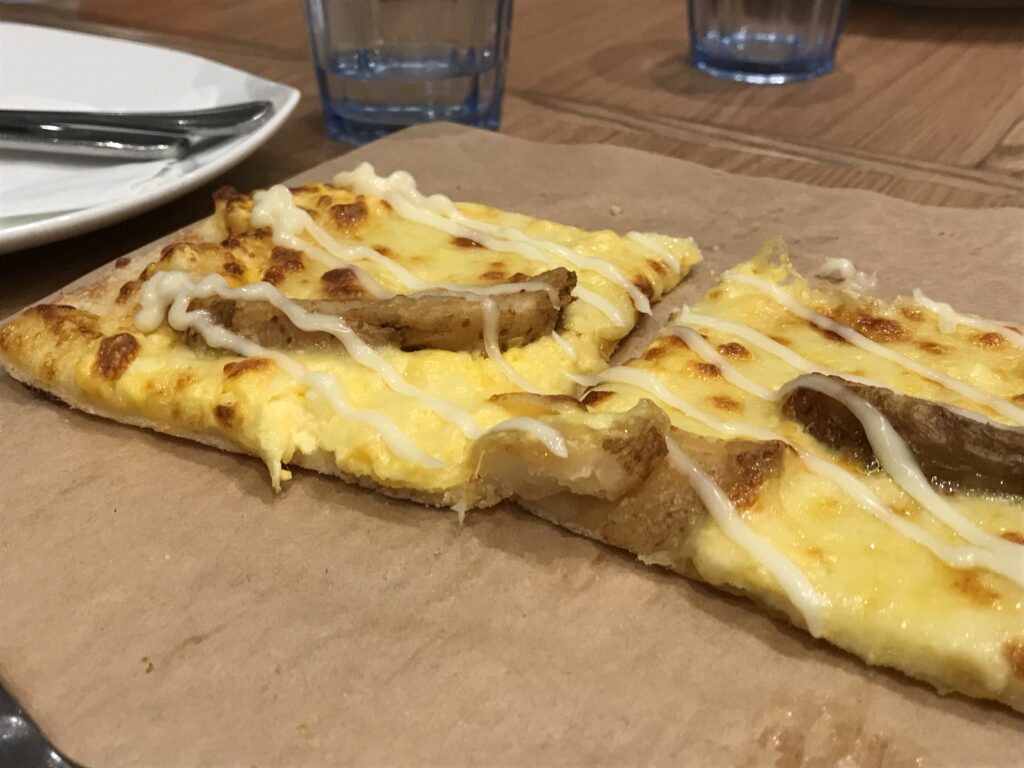 Another memorable experience during a dinner with the interns was at a Pizza Hut celebrating my flatmate's birthday. Like many Western chain restaurants in China, the menu at this Pizza Hut was unlike others, sporting local favorites such as the durian pizza. It was on this night that my friend Katie and I hit a language barrier with the waiter. After the guy sitting across from us ordered a pepperoni pizza, we ordered a plain cheese pizza to share. He said that they were out of them. Katie and I exchanged confused glances and looked around for help. Another intern showed the waiter the cheese pizza on the menu and he shook his head. We asked if there were other pizzas available, and he replied with a range of options, all including bread, red sauce, and cheese. Figuring that something must be lost in translation, we asked him if we could have a pizza with just those three basic ingredients. He nodded his head, confirmed the order with us, and left. Twenty minutes later, we received the pizza pictured above. Somehow, a pizza with 'just bread, red sauce, and cheese' came out as a pizza with mayo, potato slices, and a buttery egg base. At that point, we were too tired to try again so we ate it. It was strange.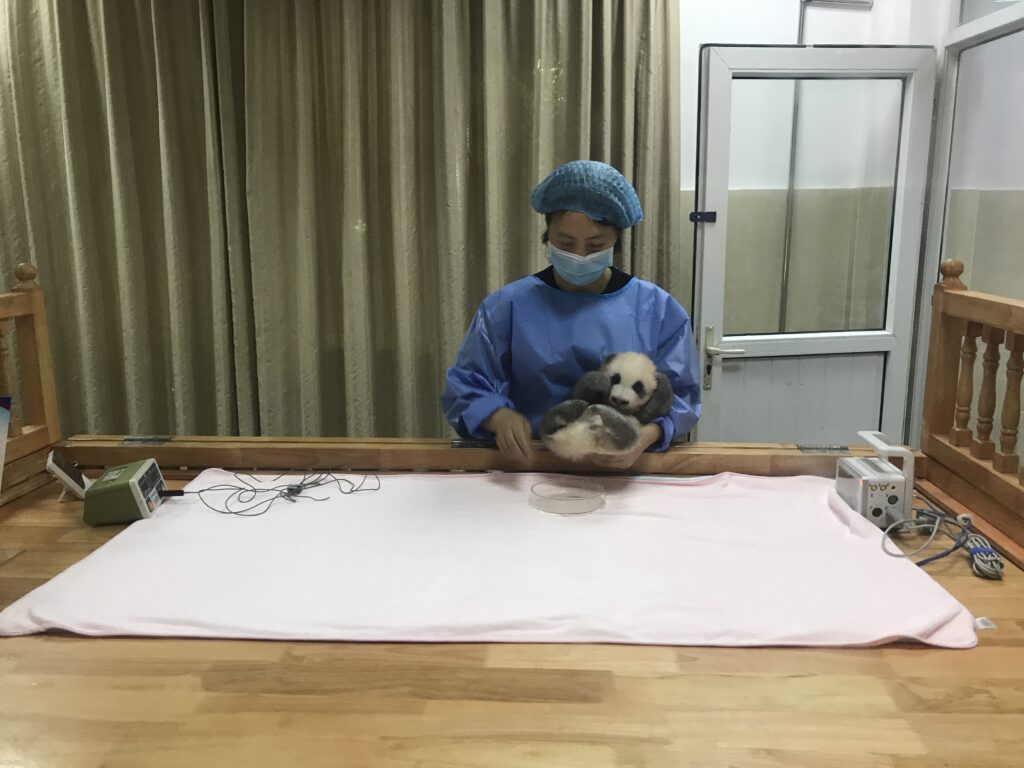 Chengdu is often known as the home of the giant panda, the birthplace of Chinese tea culture, and the artistic, historical, and cultural hub of all Sichuan. For a city that's thousands of years old, Chengdu has increasingly become a symbol of Chinese modernity. This is seen in it's growing population of eight million residents, in the number of supercars present on any given street, and in the construction of the New Century Global Mall.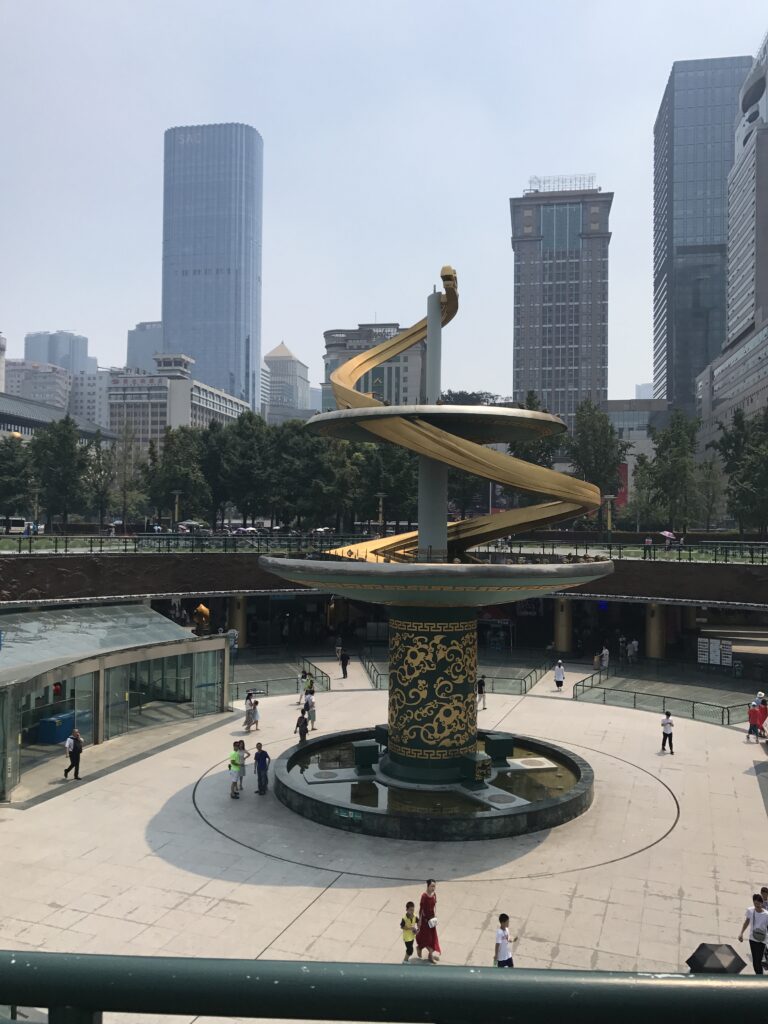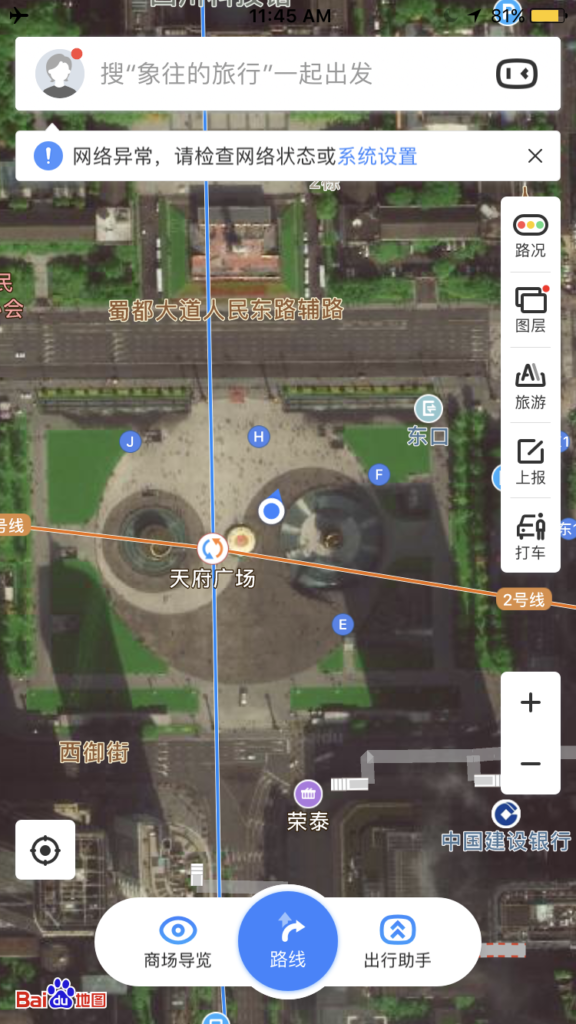 Back when I was applying for this experience in university, I was given a link to a list of potential companies I could work for across the city. I chose my top three, all in media-related fields, and emailed them to one of the internship coordinators. He emailed me back saying that none of the companies I chose were offering opportunities that year. He then sent me a link to a company that was not on the initial list, a company called Walkingbook. They were an event organizer looking for someone to help with social media and marketing. I jumped at the prospect and, after an interview with the leader, Karan, I happily accepted the position.
Working for Walkingbook was unlike anything I had ever experienced before. Little did I know that a "social media and marketing" position would offer me so many new skills, friendships, and opportunities. Aside from shooting promotional photographs and videos from the summit of a 12,000 ft mountain covered in storm clouds, a normal day was spent at the city studio in Tongzilin designing advertisements, building the website, and managing social media accounts.
There were several days that stuck out to me looking back at my time working at Walkingbook. The first was the day of my first 'Paint & Sip.' It was a Wednesday during our first week and my coworker Alina and I arrived at the studio expecting another day of media-based tasks. When we met with Karan, however, she handed us a pile of supplies and pointed to the walls, asking if we have ever put up wallpaper before. We shook our heads and before we knew it we were wallpapering the entire studio. Six hours passed and Alina and I were tired and sweaty, taking turns standing in front of the studio's air vent. It was almost 6:00 pm and we had to finish before the night's event. After putting up the last slab of wallpaper, Karan congratulated us, poured two glasses of red wine, and asked if we wanted to stay for the event. We shrugged and took our seats in front of our easels as guests began to pour through the door.
This event is the crown jewel of Walkingbook. Hosted in our studio, Paint & Sip brings locals and visitors from across the world to a shared table to drink wine and paint whatever they want. At the end of the event, the guests share what they painted, why they painted it, and what the finished work means to them.
After everyone had shared their paintings, Alina and I stepped outside and made conversation with a couple of American visitors. They told us that they were on their way to Lan Kwai Fong and asked if we wanted to join them for a few drinks. At that point, I was already a fair few glasses of wine down and I was up for anything. We met up with Alina's boyfriend, David, and before we knew it the entire group was packed in a taxi headed for a night of hilarious memories and antics.
This was the culture. This was life in Chengdu. With each adventure, I grew to love where I was and who I was with more and more. Every day was a new story, every moment and opportunity to laugh, learn, and grow...and this was just the beginning. This was week one. I couldn't wait to see what the rest of my time in Chengdu would bring. Looking back, I'll tell you now that it did not disappoint.
. . .